---
| | |
| --- | --- |
| Mac's Verilog Mode for emacs | |
---
---
by Michael McNamara < mac at verilog dot com >
It's easy to get the latest version of my Verilog mode for emacs. Now with support for the Open Verification Methodology (OVM) & SystemVerilog!! The verilog-mode is released under the terms of the GNU Public License, and is free of charge.
Register to

here, and I promise I'll send you notification about new versions as they are ready. The current release is verilog-mode.el version 840 , and this file was published on 01/08/13 .
Please review our Privacy Statement.
Verilog mode works with both XEmacs GNU emacs, on Unix and on Windows-2000 and XP (See here for detailed instructions on how to get Emacs to work on Windows).
View the Change Log to see what has been changed recently
View the Installation Guide for extra help installing Verilog mode
Submit a bug report by emailing me at < verilog-mode-bugs at verilog dot com >
Fetch the latest Emacs distribution: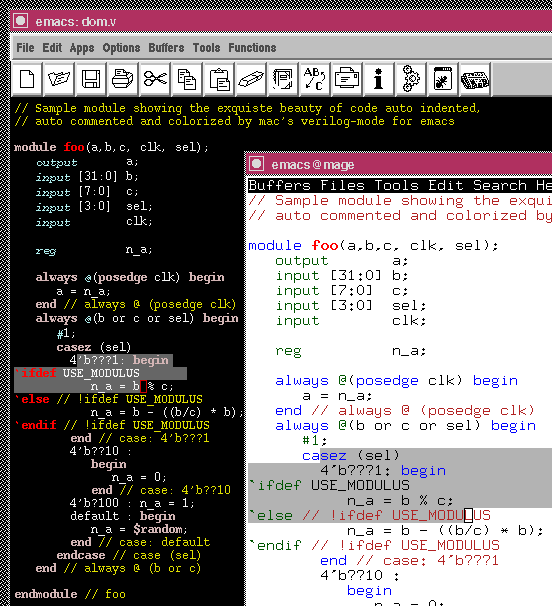 ---
Copyright 2012 Verilog.com